Second version of my idea about shop presentation software. This time it is small parser of web shop of polish H&M, Just go there and hit F4 and put H&M product number, Or – this is coolest – scan QR code with your mobile phone and you can select one of few example codes to display. Have fun 🙂
Only one note – remember it is still prototype and only a presentation of idea.
Here is link to find and test this software
when you will open mobile application just select one of example article numbers and information of it will be shown for 10 seconds on monitor screen remotely
Here is how mobile page looks like.

When you will select category from main menu then you will see products from this category.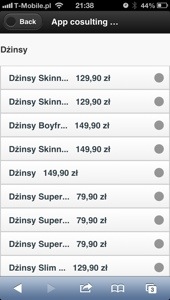 Now you need to select product which you want to see on big screen.
Of course your "big screen" can be whatever from 80 inches TV set to iPad.