Since some time in App store you can find and test my client application for MaxVideo.pl service.
This service is video storage service where users can store their own movies and can share this movies to friends by sending direct link to it. Web site policy is to do not have any search feature because all files are private users files and only users can decide who can or who can not watch their movies.
I wanted their movies for my different and private project so we made a "deal" they will give me access to their api and i will make an application for them.
So now if you have our own movies on MaxVideo or you have friends who store movies there you can watch it directly on your iphone or ipad. Only what you need to have is valid account.
Application is available for free in App Store – have fun and leave comment if you want 🙂
In this project i used may favorite technology (for now) for programming mobile devices – it is combination of PhoneGap, jquery and jquerymobile.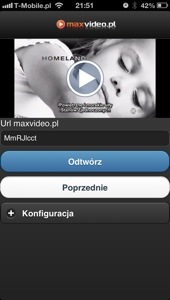 If you have an android device and you want to use this application on android you can try this apk. I don't use android any more so i don't know if everything is working ok, but this is compiled PhoneGap project for android with my app, so feel free to test it and let me know if it works or not.